Welcome to my kitchen! I hope you will find something here that will feed your body and your soul.
William Sonoma Mushroom Tart
This is the third, and final, mushroom entry from my kitchen, William Sonoma Mushroom Tart! Sounds divine, no? Maybe not if you're not a mushroom fan. However, this may also bring you to a conversion!
I take no artistic culinary credit for this one. For other William Sonoma recipes check out their website.
                    Ingredients:
·       All-purpose flour for rolling out dough
·       1 disk cream cheese pie dough, thawed, or purchased piecrust
·       2 Tbs. unsalted butter
·       1 1/2 lb. mixed fresh mushrooms, such as cremini and stemmed shiitake, halved or quartered
·       1 large shallot, chopped
·       1/2 cup crème fraîche or heavy cream
·       1 tsp. chopped fresh oregano
·       Salt and freshly ground pepper, to taste
  Cream Cheese Pie Dough Ingredients:
·       2 cups all-purpose flour
·       1 tsp. salt
·       16 Tbs. (2 sticks) cold unsalted butter, cut into cubes
·       8 oz. cream cheese, at room temperature, cut into cubes
  Directions:
In a food processor, combine the flour and salt and pulse briefly to mix. Add the butter and cream cheese and pulse until the mixture just starts to come together.

Transfer the dough to a work surface, divide into 2 equal portions and press each portion into a flat disk. Use 1 or both dough disks immediately, or **wrap in plastic wrap for future use. Makes 2 pastry dough disks. 
Bake the tart shell
Preheat an oven to 400°F.

On a floured work surface, roll out the dough into a 12-inch round. Fit into a 9-inch round tart pan and trim the dough, leaving a 1/2-inch overhang. Fold the overhang back over itself and pinch to create a sturdy edge. Pierce the dough all over with a fork. Freeze for 15 minutes.

Bake the pastry shell until the edges are lightly golden, about 15 minutes. Transfer to a wire rack and let cool.

Make the filling and finish the tart
In a large fry pan over medium heat, melt the butter. Add the mushrooms and shallot and cook, stirring occasionally, until lightly browned, 8 to 10 minutes. Add the crème fraîche and oregano, season with salt and pepper, and stir to combine.

Spread the mushroom mixture in the pastry shell. Bake until the crust is golden, about 15 minutes. Transfer to a wire rack and let cool briefly. Remove the pan rim, cut the tart into wedges and serve. Serves 6.


**Storage tip: Store the dough disks in the refrigerator for up to 2 days or in the freezer for up to 1 month. If freezing the disks, wrap in plastic wrap and then place in a heavy-duty resealable plastic bag; thaw overnight in the refrigerator before using.

Adapted from Williams-Sonoma Food Made Fast Series, Make Ahead, by Rick Rodgers (Oxmoor House, 2008).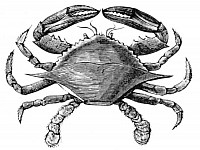 If you like this image you can purchase one from imagekind.com, artist vintage map store.
Crab Stuffed Mushrooms - Thanks St. George!
So whether you eat or drink or whatever you do, do it all for the glory of God. 1Cor 10:31 
I am certain there are many who say mushrooms are NOT glory of God food! That's okay, I feel the same about Brussels sprouts! It is my plan to offer recipes in groups of three of similar ingredients. Thanks to St. George our first three are, in fact, mushrooms. 
Yesterday we had a guest to the convent and being Friday I decided to make small, meatless foods, some of which were crab stuffed mushrooms of my own design. We were lucky enough that someone donated the crabmeat since even canned crab can be costly. 
This is the basic recipe, but it can be increased. I recommend using larger sized small mushrooms, NOT stuffing mushrooms, as the filling can really be a bit much to eat in that amount. 
Fresh crab or flake crab is really a best bet but can be expensive. Canned works just fine. 
Ingredients: 
16 large mushrooms (I like baby bella)
4oz softened cream cheese (do this in the mixing bowl to make things easier)
2 – 6oz cans crab meat or 8oz of fresh
(If using canned squeeze out all the liquid. You will end up with 4oz of meat per can)
2 Tbs fresh chopped parsley or 1Tbs dried
2 Tbs finely diced onion
1 Tbs lemon zest
¼ tsp Old Bay or comparable seasoning
1/3 C Parmesan cheese **
salt and pepper to taste 
Topping: 
¼ C plain bread crumbs
1 Tbs melted butter (you can use olive oil if you prefer)
pinch of salt and pepper 
mix together 
Your recipe will go much easier if you prepare everything first and have it before you; this way you are not rushed and have less of a chance of forgetting something. 
Preheat your oven to 375o. You want your oven to be at that temperature for 30 minutes before you place food into it. 
1) Clean the mushrooms of dirt with a soft brush or lightly dampened paper towel. DO NOT submerge or rinse mushrooms. Put them in a casserole dish.
2) Remove the stems
3) Stir the cream cheese until it is smooth.
4) Add everything down to the salt and pepper and stir it up – TASTE IT. Then add salt and pepper to taste.
5) Fill the mushrooms with about 1 teaspoon of filling – more or less. Don't cram it in but press lightly so that the cavity is filled and the filling leaves a nice little mound.
6) Sprinkle the topping on the filling. I add about ¼ cup of water to the bottom of the pan because I believe it keeps the mushroom flesh from becoming dry and chewy. This is ME, you can skip it. 
Bake for 18-20 minutes until the tops are slightly browned and the mushrooms are soft. 
** Pre-shredded Parmesan cheese often contains cellulose to keep it from clumping. Unfortunately, it also keeps it from melting. Try shredding fresh or find some that has no cellulose. You can also substitute a different cheese, i.e. mozzarella, spicy Monterey jack, whatever brings you joy! 
God bless you!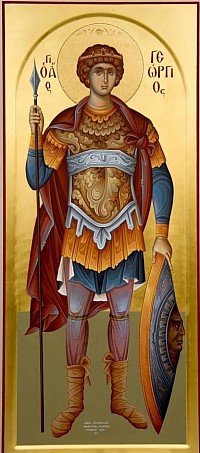 Byzantine icon of St. George
Pork Chops with St. George's Mushrooms
There are so many saints in our communion of saints. Some are patrons of actual food items and some have association with food items. The first saint I have chosen for my saint/recipe comb is St. George, in honor of our donkey, George, in the stable!  Although St. George has no patronage to any foods he does have a mushroom named for him, the calocybe gambosa or the St. George's mushroom, named as such because it appears on St. George's Day, April 23, each year in the UK. It can be found in other countries as well.  Below are some fun facts about St. George that I took from https://primaryfacts.com.
· St George is the patron saint of England, as well as many other countries,  including Greece, Portugal and Lithuania. He is famous for supposedly killing a dragon.
· He was a real person who was born in Palestine in 280 AD and joined the Roman army. He was executed in his early 20s for refusing to offer a sacrifice to the Roman Gods.
· The legend of St George and the dragon began in the 11th century. The dragon may have represented the Devil or pagan cults, while St George represented Christianity.
· Because the story was similar to an English legend, he became England's patron saint. George's fame was assured when King Edward III made him saint of the Order of the Garter (an order of knights) in the 14th century.
· St George has also become the patron saint of soldiers, archers, butchers,farmers and boy scouts. He is also the saint of those suffering from the plague and leprosy.
· St George's Day is April 23rd, the date of his death. The holiday is celebrated in several countries and has been observed in England since the 15th century
· The George Cross was introduced in 1940 for extreme acts of heroism, and is often given to civilians. The silver cross shows George killing the dragon and was given to the island of Malta during WWII. 
Now for the recipe. St. George's mushrooms grow wild mainly in Europe but with the Internet reaching far and wide you can have them shipped into the US. If you are not able to find this mushroom, you may substitute it with any mushroom you like. 
I took this recipe from https://girlinterruptedeating.wordpress.com. This is a food blog by a girl named Becky in the UK. I encourage you to look her up; she has really great recipes! 
Pork Chops with Mushrooms
2 pork chops
Salt and Pepper
Mushroom Sauce.
200g (4oz) of St Georges or cultivated mushrooms
1 clove of garlic
2 banana shallots
1 tbsp of wholegrain mustard
4 tbsp of fresh parsley
4 tbsp of half fat creme fraiche
Salt and Pepper
1.     Notch the chop fat with a knife, season the pork chops well with salt  and pepper
2.     Fry the pork chop and shallots until golden on both sides, once cooked wrap the chops in foil and leave to rest
3.     Add the mushrooms, wholegrain mustard, parsley, garlic to the pan with the cooked shallots
4.     Cook until the mushrooms have soften add the creme fraiche
5.     Season with salt and pepper
6.     Spoon over the pork chops and serve