Catholic Culture Moments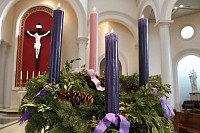 The Advent Color is Still Purple
What does that mean, anyway?  Advent is a liturgical penitential season, which means prayers are specific to the intent, the Gloria is not sung or said during holy Mass, and the liturgical color for three of the four Sundays is purple and one Sunday is Rose.  Purple is the color that represents penance, sacrifice, and preparation and rose represents joy. 
Why does Advent matter?  Isn't everything tied into Christmas day?  Not really.  Advent is the time we spend preparing our hearts, minds, and homes for the coming of our Lord at the end of time AND at the nativity.  Advent is twofold, as the readings of the Mass will explain.  The first Sunday invites the faithful to watch for the Second Coming and the second Sunday invites the faithful to prepare for that coming.  Why are we asked to reflect on the Second Coming during Advent?  Because, the second coming will complete what Jesus started by His birth, death, and resurrection.  Even the third Sunday of Advent has a hint of how to be prepared for this Second Coming.  It isn't until the fourth Sunday that we read anything resembling Christmas.
Unfortunately, there has been a move away from the idea of preparing for His coming in a sacred way toward a more secular focus on Christmas day itself.  In 1966 the Bishops of the United States had this to say about Advent:
5. Changing customs, especially in connection with preparation for Christmas, have diminished popular appreciation of the Advent season. Something of a holiday mood of Christmas appears now to be anticipated in the days of the Advent season. As a result, this season has unfortunately lost in great measure the role of penitential preparation for Christmas that it once had.
Pastoral Statement on Penance and Abstinence November 18, 1966
So what does this mean for us as people who love the joy of Christmas?  Celebrate Advent in your home by lighting an Advent wreath each day, have a sacred Advent calendar leading to Christmas day, consider a small Jesse tree, with ornaments that represent the Holy Prophets who foretold the birth of the savior that can simply be put away on December 24.  As you buy gifts for those you love say a special prayer for them to be blessed by the birth of Christ.  Allow your decorating to increase with each week so Christmas Eve will explode with beauty.  Attend Midnight Mass if you can.
Whatever you do, DON'T STOP CELEBRATING on Christmas day!  Have Christmas parties well into the Christmas season, not just before.  Keep your tree up until at least the traditional Epiphany of January 6 or, until the end of the liturgical Christmas season at the Baptism of the Lord on January 13, 2022, or if you're REALLY keyed in, until the feast of the Presentation on February 2nd!  
You are given a promise that spending the time to spiritually prepare for the Birth of Jesus will make an amazing Christmas experience for you and all you love!  Advent and Christmas form a unity. We cannot engage in one season without reflection upon the other. Both seasons complement one another and do not stand alone.  Give Advent a try.  Remember, the 12 Days of Christmas start, not end, on Christmas. 
Call Who Father?
Have you ever been told that Catholics make up their own rules using the example that call no man father is in the bible and the Church ignores it?  How do you answer when that happens?  Think about this.  Most people take this line from the Gospel of Matthew out of context – no surprise there – and use it to chastise us for calling our priests father.  This reference is in the Gospel of Matthew 23: 9 however it must be read in the correct CONTEXT.  What about verse 8 that says to call no man rabbi or verse 10 that says to call no man teacher or doctor, if you're going Greek?  My guess is those titles have not been removed from the vocabulary of those who are discontented. 
What does Jesus mean, then?  Let's take a look at the verses just before these.  Jesus is speaking about the Pharisees who perform deeds to be seen, and put themselves in places of honor at feasts and synagogues.  If we go just beyond the noted passages we see Jesus speaking of these Pharisees as having self-exaltation and a lack of humility.  The "call no one" verses are smack dab in the middle so they are obviously used to carry a point.  This is the do as they say, not as they do passage.  These Pharisees are not acting as spiritual fathers or teachers at all.  They used their title to give themselves an importance that is due only to God, thereby exalting themselves.  The warning is about using these titles inaccurately.  After all, in the Gospel of John 8:39 Jesus himself refers to Abraham as the father of the Jews and because of their behavior tells them that the devil is their father (8:44).        
Are there any passages in scripture that supports spiritual parentage?  Of course!  Paul regularly referred to Timothy as his child: "Therefore I sent to you Timothy, my beloved and faithful child in the Lord, to remind you of my ways in Christ" (1 Cor. 4:17), as well as in first and second Timothy 1:2.
He also referred to Timothy as his son: "This charge I commit to you, Timothy, my son, in accordance with the prophetic utterances which pointed to you, that inspired by them you may wage the good warfare" (1 Tim 1:18), as well as in 2 Timothy 2:1.  Paul also referred to Titus as his true child in a common faith (Titus 1:4) and he appeals from prison for his child, Onesimus (Philemon 10).  None of these were Paul's literal, biological sons. Rather, Paul is emphasizing his spiritual fatherhood with them. 
Okay but what about the use of FATHER? Let's go back to Paul: "I do not write this to make you ashamed, but to admonish you as my beloved children. For though you have countless guides in Christ, you do not have many fathers. For I became your father in Christ Jesus through the gospel" (1 Cor. 4:14–15).  In Philippians 2:22 Paul says "But you know his (Timothy's) proven worth—how like a son with his father he served with me in the gospel."  And, going back to the previous Philemon reference, "I appeal to you for my child, Onesimus, whose father I have become in my imprisonment."
Is Paul the only one talking? Nope!  Peter refers to Mark as his son (1 Peter 5:13), and John calls the people of Ephesus his little children (1 John 2:1).  These men acknowledge their spiritual fatherhood given to them through the gospel.  If Jesus were speaking literally wouldn't it be equally wrong to call yourself a father in faith or suggest a spiritual child/father relationship?  It isn't about a word, but about a concept.
As with the Holy Apostles, Catholic priests bear the authority of God in the New Covenant sealed by the blood of Christ.  They are our spiritual fathers in faith and so, recognizing this, we refer to them with filial love as father.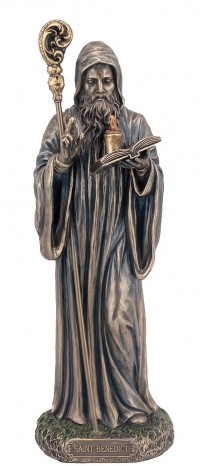 St. Benedict Statue catholicstore.com
Statues ... They're Not Just for Greece
One of the elements of the Catholic cultural faith is statues. We have them at the church, in our homes, in our cars, in our workplaces, etc. They are also a point of difficulty for many a Protestant.  Some Protestants have a misunderstanding about our understanding of statues.
First, we do NOT worship statues. That is idolatry and is a serious no-no! "You shall not make for yourself a graven image or any likeness of anything that is in heaven above, or that is in the earth beneath, or that is in the water under the earth: you shall not bow down to them or serve them" (Ex. 20:4–5); "Alas, this people have sinned a great sin; they have made for themselves gods of gold" (Ex. 32:31).  These are passages often used by someone condemning our practices.
God tells us that He is a jealous God and will not tolerate us having any gods other than Him. Our statues are of saints, those who have given their lives over TO God, those we view as an example to us of holiness FOR God, but NOT gods. We do not bow down or worship them.  Similarly, we do not believe that Jesus, Himself, is in a statue.  We do not expect the statue of Christ to be magical.
Second, there were times that God said to make images. One are the statues of cherubim on the Arc of the Covenant.  Another is the image of the serpent that was on Moses' staff.  Those bitten by poisonous snakes only needed to look upon it and they were saved from death.  I'm fairly certain most of your Protestant friends have a Nativity at Christmas. Just as those pieces are used as reminders of a specific event, our statues are used as a reminder of holy people.
What about when we kneel or bow, like when we light candles in front of a statue?  It is important to know and explain the difference between the legitimate veneration of a sacred image with the sin of idolatry.  For starters, bowing does not only happen in worship.  Bowing is also a sign of respect that is practiced in cultures like Japan's.  Kneeling is also a posture that shows respect. Many have knelt before a king or queen without worshipping them as a god; just ask anyone who has been knighted.  
The Council of Trent (1566) taught that idolatry is committed "by worshipping idols and images as God, or believing that they possess any divinity or virtue entitling them to our worship, by praying to, or reposing confidence in them" (374).  Remind your Protestant friends that saints intercede for us they do not take the place of God or Christ.  When I ask you to pray for me, I am not worshipping you but banking on your worship of God.  When we ask the saint whom the statue represents to pray for us, we are banking on their worship of God from heaven. It all points to God!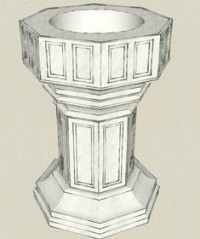 And on the Eighth Day
Why do some, particularly older baptismal fonts have eight sides? The font at St. Barnabas in NC also has dogwood flowers.  As churches are being built and church furniture is purchased many churches, even Protestant ecclesial communities, are moving back to an eight-sided baptismal font.  What is the significance of the eight sides?
Jean Cardinal Daniélou, in his book The Bible and the Liturgy, teaches that the seven days of creation are the figure of time and the eighth day is the figure of eternity.  St. Basil I explains that the first day, Sunday, is the day light was created, the day Jesus rose from the dead, the day we celebrate the Holy Liturgy; it is the day that is the figure of the oneness of time and eternity. Sunday is the cosmic day of creation and the day we celebrate the Resurrection, the Eucharist, the gift of the new heaven and new earth and our involvement in this newness through our baptism. 
At our conception we enter into time.  We are born into the seven days.  We enter into history.  St. Paul teaches we are baptized into the death of Christ (Romans 6:3) which breaks the bonds of sin that happen when we live in and of the world.  Because of our baptism in Christ we are permitted to share in the gift of His resurrection if we so choose.  We get a new identity.  We become more than a creation of God; we enter into His family: For 'In him we live and move and have our being, as even some of your poets have said, 'For we too are his offspring.' (Acts 17:28).  We now live in the world but are NOT of the world.  All of this happens because of the eighth day of the new creation. 
The dogwood panels on the sides of the fonts are there because the dogwood is a modern figure of the Passion of Christ. "Legend" has it that the dogwood, which once grew tall and straight, was the source of the wood used for the cross. Jesus had pity on this poor tree used for such an ignoble purpose, and decreed, "Henceforth it shall be slender and bent and twisted and its blossoms shall be in the form of a cross ... two long and two short petals. And in the center of the outer edge of each petal there will be nail prints, brown with rust and stained with red, and in the center of the flower will be a crown of thorns, and all who see it remember ... that it was upon a dogwood tree I was crucified and this tree shall not be mutilated or destroyed, but cherished as a reminder of My death upon the cross." Of course, it does not hurt that the dogwood is the NC state flower.
The day and following anniversaries of our baptism should be met with great celebration.  It is a day to remember, rejoice, and celebrate as we would any other birthday, holiday, or anniversary.  We should renew our baptismal vows often not only at Easter, and we should always consider this amazing gift of grace, love, and Holy Spirit with gratitude and a desire to be in the family of God.
Pray All Year!
Did you know that each month on the Church's calendar has a specific monthly devotion associated with it?  Consider that everyone has devotions of one sort or another that weave throughout life's fabric.  These change over time as age matures and faith deepens.   
The beauty of monthly devotions is the opportunity to focus on spiritual themes for a short period of time.  Each month offers an avenue to travel down that ultimately leads to a deeper faith in God through the Church.  Participating in monthly devotions has the potential to keep prayer from becoming arid or stagnant.
So what are these monthly devotions?
January is the month of the Holy Name of Jesus
            Prayer option: Litany of the Holy Name
February is the month of the Passion of our Lord
            Prayer option: Stations of the Cross
March is the month of St. Joseph
            Prayer option: Novena to St. Joseph
April is the month of the Holy Eucharist
            Prayer option: Eucharistic adoration
May is the month of the Blessed Mother
            Prayer option: Litany of the Blessed Virgin Mary
June is the month of the Sacred Heart
            Prayer option: Consecration to the Sacred Heart of Jesus
July is the month of the Most Precious Blood
            Prayer option: Chaplet of the Precious Blood
August is the month of the Immaculate Heart of Mary
            Prayer option: First Saturday Masses
September is the month of Our Lady of Sorrows
            Prayer option: Seven Sorrows prayer
October is the month of the Most Holy Rosary
            Prayer option: Daily Rosary
November is the month of the Holy Souls
            Prayer option: Payers for those in purgatory
December is the month of the Divine Infancy
            Prayer option: Chaplet of the Holy Infant Jesus
Entering into prayer with these intentions even once in that month will allow for a connection to the vast richness that is our Catholic faith.  If you happen to walk away with a burning desire to continue a devotion then great! God is obviously speaking to your heart and is showing a pathway to deeper union with Him.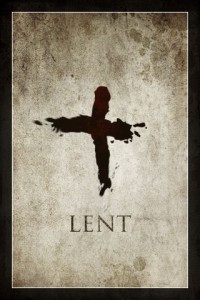 How Many Days in Lent?
A common question asked is "how many days of Lent are there, really?"  The answer, as in many answers, is it depends. The PERIOD of Lent is a time of fasting, penance, and alms      giving.  This holy season begins ON Ash Wednesday and ends with the Easter Vigil.  If you count those days, including Sundays, you will count 46. 
In the days following the Resurrection, the disciples moved the day of resting from the Sabbath or Saturday to Sunday in commemoration of this life-changing event.  Followers of Christ were not permitted to fast or do penance on those days because they were for celebration.  The same is true now.  Even during this SEASON we are permitted to re-visit what we fasted from, in a moderate way, on Sundays.  There are six of those.  Now we are down to 40.
HOWEVER, even though the season of Lent ends with Easter Vigil, the DAYS of Lent stop on Holy Thursday.  Well, if they end on Holy Thursday then why do we still fast?  The days of Holy Thursday, Good Friday, and Holy Saturday before the Vigil are the three HOLIEST days of the year and we give a last bit of energy to our penance and fast.  To truly walk with our Lord to Easter we cannot rob ourselves of the experience of the Holy Triduum.
So, here's the answer:  The PERIOD of Lent has 46 days in it, the SEASON of Lent has 40 days in it, and the DAYS of Lent has 37 days in it.
NOW to throw a wrench into the mix we have solemnities. March 19, the Solemnity of St. Joseph the Husband of Mary, and March 25, the Solemnity of the Annunciation are two days that often fall during Lent. Solemnities are days that have a Gloria in Lent and a Creed during a daily Mass. These days permit us to break our Lenten fast. We are not to go overboard, of course, but if these days fall on a Friday during Lent, we are permitted to eat meat! One could argue that the DAYS of Lent could be as few as 35, at least in 2019!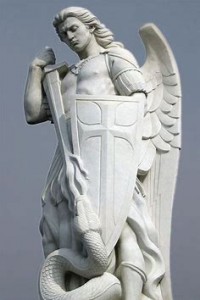 St. Michael is on the Job!
Angels are valuable friends to humanity. They are creatures of pure intellect, messengers of God, attendants, and often appear as humans to carry out their missions. Some people have seen their guardians and have been told their names. God created nine choirs of angels; of those choirs are the Archangels, the highest rank of the choirs.
There are four archangels that we recognize: Michael, Raphael, Gabriel, Uriel. Each has a different task and a chaplet of their own for us to implore their aid. Perhaps the most necessary in this current climate of the world and the Church is the chaplet of 
St. Michael.
Origin: One day St. Michael Archangel appeared to devotee Servant of God Antonia De Astónac. The Archangel told the nun that he wished to be honored through recitation of nine salutations. These nine salutations correspond to the nine choirs of angels. The chaplet consists of one Our Father and three Hail Mary in honor of each angelical choir.
Promises: To those that practice this devotion in his honor, St. Michael promises great blessings:
1. To send an angel from each angelical choir to accompany the devotees at the time of Holy Communion.
2. Additionally, to those that recite these nine salutations every day, it assures them that they will enjoy his continuous assistance. That is to say, during this life and also after.
3. Furthermore, they will be accompanied by all the angels and together with all their loved ones, they will be freed from Purgatory.1      
St. Michael is a great warrior and fights for us against Satan, who we are told in 1Peter 5:8, prowls around like a roaring lion, seeking to devour souls. It seems that lion is a bit engorged considering how much has been devoured in the past years, months and days. The chaplet of St. Michael is a great way for the laity to enter into the fight for Truth, Beauty, and Goodness.
The chaplet is said on beads that are in groups of three separated by a single bead. If you are handy with beads and string you can make your own, or you can purchase one from Catholic book stores on line such as the Catholic Company or the St. Jude Shop. Below is a website link that you can use to pray the chaplet.2 
St. Michael pray for us! 
1http://ourladystears.blogspot.com/2007/07/heavens-promises-chaplet-of-st-michael.html
2https://www.ewtn.com/devotionals/prayers/chaplet-of-st-michael.htm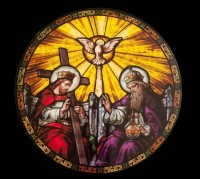 Taken from catholicmannight.com
The Glory Be Wraps It Up
Glory be to the Father, and to the Son, and to the Holy Spirit. As it was in the beginning, is now, and ever shall be, world without end. Amen.
This prayer is said at the end of the propers of the Mass, after psalms in the divine office, and during the rosary. It is often referred to as the doxology, a short verse ending a prayer or hymn offering praise to God. St. Paul uses doxologies at the end of many letters. One example is Romans 11:36 All things find in Him their origin, their impulse, the center of their being; to Him be glory throughout all ages, Amen.
You might remember the formula for baptism given by Christ in Matthew 19; you, therefore, must go out, making disciples of all nations, and baptizing them in the name of the Father, and of the Son, and of the Holy Ghost and you certainly recognize this as the sign of the cross. What you might not remember is the Arian heresy of the 4th century that "denies that the Son is of one essence, nature, or substance with God; He is not consubstantial with the Father, and therefore not like Him, or equal in dignity, or co-eternal, or within the real sphere of Deity."1  Because of this heresy people in the 300's used the first part of the glory be to defend the doctrine of our one God in three persons.2 The second part was soon added as a further statement against Arianism, and in 529 the Synod of Vasio recognized this as the reason for the added words in Rome, the East, and Africa and included Gaul in the list.3 
What is "it"? It refers to glory at the front of the prayer, but given the purpose of the words might have once been understood to mean the Son.4 The statement certainly is reflective of Hebrews 13:8; Jesus Christ is the same yesterday and today and forever. There is also a doctrinal reference to the Gospel of John, In the beginning was the Word, and the Word was with God, and the Word was God. 
Finally, what are we to make of world without end? Our world is certainly going to end. Fortunately we will get a new heaven and a new earth as promised by our Lord but these words simply refer to our belief that God's kingdom will never end. In the Latin prayer the words are et in saecula saeculorum which translates to in an age of ages or forever and ever. Amen. 
1http://www.newadvent.org/cathen/01707c.htm
2http://www.how-to-pray-the-rosary-everyday.com/glory-be-prayer.html
3http://www.newadvent.org/cathen/05150a.htm
4IBID
Who is St. Joseph husband of Mary, Foster Father of Jesus?
St. Joseph was a man who was full of faith and trust in God.  He was
the man who, upon hearing of Mary's pregnancy, wanted to divorce her in quiet so she would not be subject to the punishments of the law.  He was the man that believed the angel who spoke to him while sleeping and awoke to take Mary and her baby into his care, knowing he was doing God's will.
St. Joseph was the man who taught Jesus to be a carpenter while He was preparing for His public ministry. St. Joseph is the patron of family life, those seeking homes, seeking employment, fathers providing for their families amongst other things. 
St. Joseph saved Sicily from starvation through his intercession for them. The only thing that grew was fava beans but they were grateful and Italians still celebrate this feast day with joy.  As a result of this intercession, the St. Joseph's Day altar – Tavola di San Giuseppe – was born. This altar generally has food on it so those without can come and take what they need.
St. Joseph was a righteous, faithful, and honorable man. He is a valuable intercessor. 
Happy St. Joseph's Day!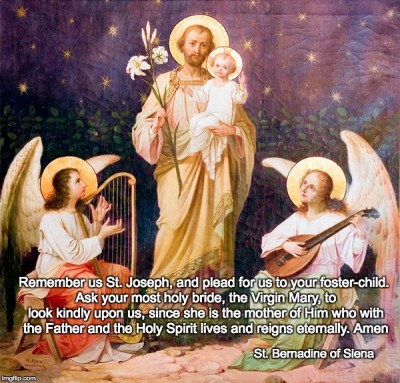 Lorica of St. Patrick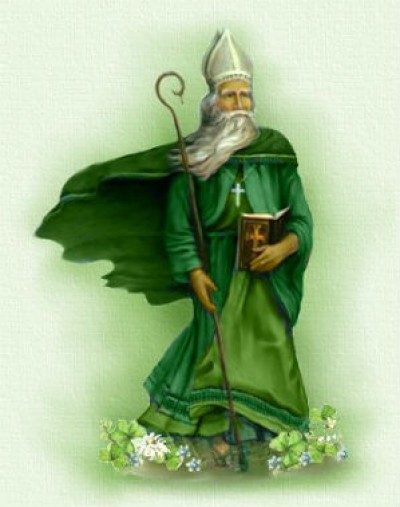 Taken from www.catholic.org
I arise today
Through a mighty strength, the invocation of the Trinity,
Through a belief in the Threeness,
Through confession of the Oneness 
Of the Creator of creation. 

I arise today 
Through the strength of Christ's birth and His baptism, 
Through the strength of His crucifixion and His burial, 
Through the strength of His resurrection and His ascension,
Through the strength of His descent for the judgment of doom.

I arise today
Through the strength of the love of cherubim,
In obedience of angels,
In service of archangels,
In the hope of resurrection to meet with reward,
In the prayers of patriarchs, 
In preachings of the apostles,
In faiths of confessors,
In innocence of virgins,
In deeds of righteous men. 

I arise today
Through the strength of heaven; 
Light of the sun,
Splendor of fire,
Speed of lightning,
Swiftness of the wind,
Depth of the sea, 
Stability of the earth,
Firmness of the rock. 

I arise today
Through God's strength to pilot me;
God's might to uphold me, 
God's wisdom to guide me, 
God's eye to look before me, 
God's ear to hear me, 
God's word to speak for me, 
God's hand to guard me, 
God's way to lie before me, 
God's shield to protect me, 
God's hosts to save me 
From snares of the devil, 
From temptations of vices, 
From every one who desires me ill, 
Afar and anear, 
Alone or in a mulitude. 
I summon today all these powers between me and evil,
Against every cruel merciless power that opposes my body and soul, 
Against incantations of false prophets,
Against black laws of pagandom,
Against false laws of heretics,
Against craft of idolatry, 
Against spells of women and smiths and wizards,
Against every knowledge that corrupts man's body and soul. 
Christ shield me today 
Against poison, against burning, 
Against drowning, against wounding,
So that reward may come to me in abundance.

Christ with me, Christ before me, Christ behind me,
Christ in me, Christ beneath me, Christ above me, 
Christ on my right, Christ on my left, 
Christ when I lie down, Christ when I sit down, 
Christ in the heart of every man who thinks of me, 
Christ in the mouth of every man who speaks of me, 
Christ in the eye that sees me, 
Christ in the ear that hears me. 

I arise today
Through a mighty strength, the invocation of the Trinity,
Through a belief in the Threeness,
Through a confession of the Oneness
Of the Creator of creation

St. Patrick (ca. 377)
An Interview with St. Valentine


Your feast day is coming up. What do you want people to know?
Well, there are about a dozen St. Valentines within history, and 3 are listed on February 14. All of us martyred.
Who martyred you?
Around 270 AD, myself a priest of Rome, and Bishop Valentine of Terni, Italy did our best to promote Christ and the Gospel message of faith, hope, and charity. The problem was the Emperor Claudius II did not care for our message. In an attempt to build his army, Claudius made marriage illegal because men would not become soldiers if they had a wife and family. 
Was marriage the cause of your deaths?
Yes. Banning marriage was wrong, so I performed the ceremonies in secret. I knew I would get caught, eventually. The Bishop also performed marriages but one stuck out more than others. Sabinus, a young Roman legionary, was in love with a young Christian girl named Serapia. Her parents were opposed to their relationship; he was a soldier and a pagan after all. Serapia was found to be terminally ill so Sabinus called upon the Bishop to perform the illegal ceremony. Bishop Valentine baptized Sabinus, married the two, and then they both died. As for the Bishop and myself, we were beaten and beheaded. 
What about the third St. Valentine?
He was from Africa. Not much is known about him except he was martyred for the faith.
As you know, your feast day has become quite the secular holiday. Is any part of the secular celebration pulled from your legends in history?
Some. In my legend the jailor's daughter and I became friends while I was imprisoned. Before I went to my death I left her a note thanking her for her friendship and I signed it "from your Valentine." The Bishop's legend says the jailor's daughter was blind and he healed her. He sent her a farewell with the same conclusion. 
Bishop Valentine has within his legend an account of a quarreling couple. He gave them a rose and begged them to hold it in their hands together without getting pricked by the thorns. This took a while, and their success led to their marriage. As to how the feast day became about hearts and romance, I cannot say with certainty. 
Any final thoughts?
As humbled as we are that our name is celebrated, it is important for Catholics to realize February 14 is not a major feast day on the calendar. As a matter of fact, the prayers for that day are for Saints Cyril and Methodius. Romantic love often excludes people, and the expectation of this secular day can cause sadness. If people really want to celebrate our sacrifice, show the love of Christ, our greatest lover, to all people. His is the greatest romance in history! And finally … call us by our proper name, SAINT VALENTINE!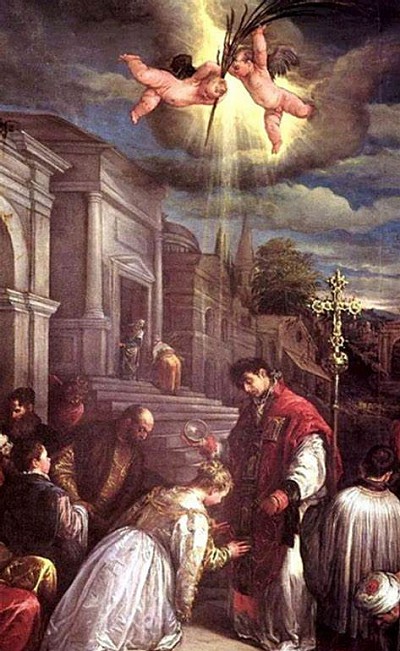 Remember, Man, You Are Dust Part 2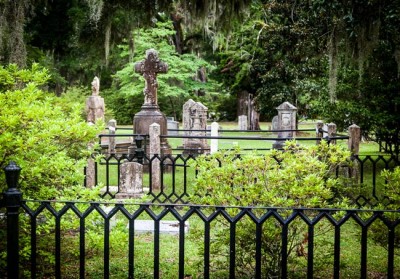 All Saints Churchyard Pawley's Island, SC


     Part one of this title explained the history of the reason Holy Mother Church banned cremation. Although there is no longer a ban, the Church maintains the importance of our natural bodies and the reverence thereof after death.
     Bishop Morlino of Madison, Wisconsin reminds us that our bodies are heaven-bound. They will one day be glorified, as taught in 1 Corinthians 15: 42-44. He explains that the body's destiny is heaven, not the grave. "We're not disposing of the body in the grave…we're allowing it to rest in order to have it raised up," he said. "God has further use of that body. It is not a throw-away."1 These teachings are only understood in the shadow of the second coming.
     The Catholic understanding and practice of preparing a body for burial comes to us from Jewish tradition. This is called the Tahara, a simple, yet dignified ritual that allows the person to meet his or her Maker with the utmost respect and dignity. 2 The Tahara ritual includes cleansing, washing and dressing. Sound familiar?
     Finally, how the remains of someone are handled goes far to the expression of respect. If we do not do something to a body, we should not with cremains. We would not leave Grandpa in the living room in a casket, so we should not leave his urn on the mantle. We would not cut pieces of Mom to make jewelry with, so we should not with her ashes. We would not dismember Uncle Frank and spread him throughout the land, so we should not with his cremains.  The Church is quite clear on the disposition of remains:
5. When, for legitimate motives, cremation of the body has been chosen, the ashes of the faithful must be laid to rest in a sacred place, that is, in a cemetery or, in certain cases, in a church or an area, which has been set aside for this purpose, and so dedicated by the competent ecclesial authority.
6. … the conservation of the ashes of the departed in a domestic residence is not permitted. … the ashes may not be divided among various family members and due respect must be maintained regarding the circumstances of such a conservation.
7. In order that every appearance of pantheism, naturalism or nihilism be avoided, it is not permitted to scatter the ashes of the faithful departed in the air, on land, at sea or in some other way, nor may they be preserved in mementos, pieces of jewellery [sic] or other objects. These courses of action cannot be legitimised [sic] by an appeal to the sanitary, social, or economic motives that may have occasioned the choice of cremation. 3
     Because we continue to remember our deceased loved ones in our memories and prayers, having a place we can visit is important to aid in our continuous healing. Likewise, a grave or mausoleum with a tombstone or marker helps to keep us grounded in the understanding that one day Christ will come and our loved ones, as well as we will rise from our graves with our glorified bodies to live again on the new earth. One hundred years from now, if this has not yet happened, people will visit our graves and know that a person precious in the sight of God is buried there, will offer a prayer for our souls, and will look forward to meeting us in the second coming.
1 http://www.catholicworldreport.com/2012/11/03/changing-catholic-attitudes-about-cremation/
2 http://www.chabad.org/library/article_cdo/aid/367843/jewish/The-Taharah.htm 
3 Instruction Ad resurgendum cum Christo regarding the burial of the deceased and the conservation of the ashes in the case of cremation, 25.10.2016
Remember, Man, You Are Dust Part 1


     When planning a burial we are faced with the question of casket or cremation. Catholics are very aware that Holy Mother Church, until fairly recently, did not permit cremation. It wasn't until the 1960's that a shift was made.
     Although Catholics know it was not an option, most cannot explain why. Historically, pagans did not believe in the resurrection of the body, believed in re-incarnation, and insisted death the end so reverencing a body was pointless. They cremated their dead to prove their theological point. In order to keep theological differences separate, early Christians in Rome buried their dead in the catacombs outside the city walls. Therefore, if a Catholic chose to be cremated it was seen as a loss of hope in the resurrection of the body and/or a scoffing at a fundamental belief of the faith. The Catechism of the Catholic Church addresses the issue in a single sentence: "The Church permits cremation, provided that it does not demonstrate a denial of faith in the resurrection of the body" (no. 2301).
     The rise of cremation since the Church lifted the ban is due mostly to cost and, in some cases of family plots, space. The Church still considers body burial the preferred practice; if cremation is to take place She favors the body present at the funeral.  Canon law gives some insight as well: 
Can.  1176
§1. Deceased members of the Christian faithful must be given ecclesiastical funerals according to the norm of law.
§2. Ecclesiastical funerals, by which the Church seeks spiritual support for the deceased, honors their bodies, and at the same time brings the solace of hope to the living, must be celebrated according to the norm of the liturgical laws. 
§3. The Church earnestly recommends that the pious custom of burying the bodies of the deceased be observed; nevertheless, the Church does not prohibit cremation unless it was chosen for reasons contrary to Christian doctrine. 
     Bishop Robert Morlino had a study executed in Madison, Wisconsin and found that in areas where the Catholic faith is stronger, cremation is chosen less frequently. Depending on the region of Madison, cremations make up 20 to 40 percent of all burials. I imagine the same is true for other cities, too.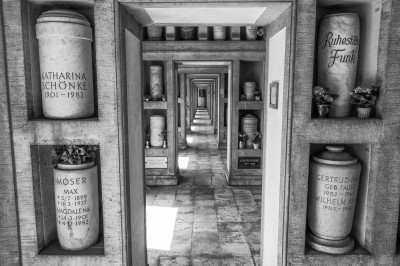 Cemetery Wilmersdorf, Berlin
~ Sweet Nothings ~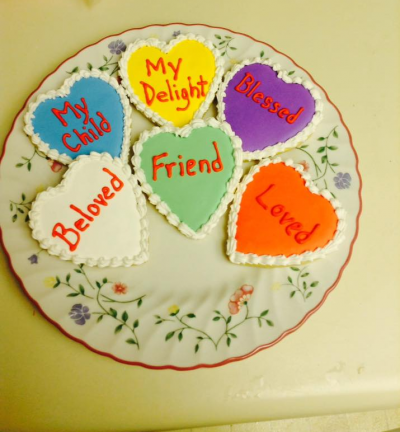 It's that time again for conversation hearts from God. The picture is last year's conversations ... this year they will say: 
Sacred (Dt 7: "You are a people SACRED to the Lord, your God),
My Delight, Espoused (Is 62:...you shall be called "My Delight," and your land "Espoused.") , 
Beloved (1Thes: We know, too, beloved of God, how you were chosen)
Friend (John 15: I no longer call you servants ... I have called you friends)
Blessed (Ps 146: How blessed is he whose help is the God of Jacob, whose hope is in the Lord his God)
We just love St. Valentine's Day around here! Although, this year we are moving it to Fat Tuesday :) 
Peace today! ~ Sr. St. Martha