Books from the Sisters
ALL HALLOWS' EVE IS HERE!
 Order your copies today and celebrate All Hallows' Eve with the Sisters of the Holy Confections and their friends Salvatore and Ardeth. Walk with Mother Benedict as she and her sisters explain all saints, all souls, purgatory and more. And, of course, Maggie  and Winnie are part of the fun!

Each book is $15. Free shipping on purchases of $50 or more.
Send us a message. We look forward to hearing from you!
Be blessed today :) ~Sisters of the Holy Confections
ON SALE TODAY. EACH BOOK JUST $12. Contact us to get your copy!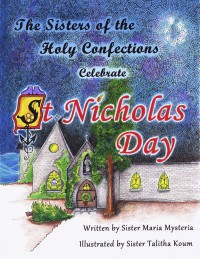 December 6 is on the Way! SOLD OUT! THANK YOU FOR YOUR PATRONAGE!


St. Nicholas was the Bishop of Myra in the 4th century. The sisters in the Holy Confections Convent will introduce you to St. Nicholas, telling you about his life, his symbols, and his patronage. Join the Sisters as they prepare for a great celebration in honor of holy St. Nicholas.
Book price is now $10.33 plus tax and shipping where applicable.
A portion of each book is donated to the 
Sisters of St. Joseph, Philadelphia.
Contact Us
To place an order please use our contact us page.
Payment information:
Checks:
Sisters of the Holy Confections
88 Ardis Lane
Hendersonville, NC 28792
Paypal: shcmay01@gmail.com